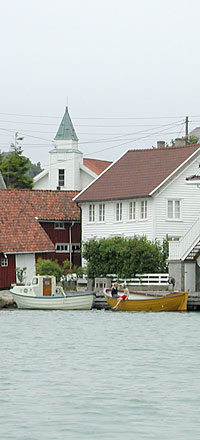 Kristiansand Norway and Sørlandet
Kristiansand
is the urban centre of
Sørlandet
- the south coast area of Norway that is very popular for family summer holidays by the sea and for fishing trips. It has ferry links to Denmark and an
airport
with international flights. Founded in 1641 by the king of Denmark and Norway, its centre is a 1 kilometre square of straight streets called Kvadraturen.
Denmark used to rule Norway and Kristiansand was the garrison town just scross the Skagerrak (narrow sea) from Denmark. As with other wooden towns, it suffered a series of large fires, the last one in 1892, leaving only a small part of the original town, in the northern corner of Kvadraturen. This part -
posebyen
- was then partly demolished by the planners in the 1950's before people woke up to what they were losing.
The remaining parts of the town were rebuilt in brick and concrete, but the town is pleasant to walk around, especially the car-free parts of the centre.
There are guest harbours and a sandy beach on the south-east side of Kvadraturen, the
ferry terminal
and train station are on the south-western edge, and a large open nature area of paths and woodland called Baneheia extends beyond the north-west side. The river Otra flanks the north-east side
Attractions
The biggest attraction in the area is
Kristiansand Dyreparken
- the zoo and theme park 12 km east of Kristiansand.
Festivals and Events
There are quite a few festivals and special events in Kristiansand and Sørlandet.
Quart festival
is Norway's biggest rock festival.
Accommodation
Our
Hotel room booking system
is unique - combining results from hotel chains with hotels you won't find anywhere else - and you see everything available for your dates.
Our new
self-catering accommodation booking system
lets you book cottages (called a hytte here) and apartments in the region.