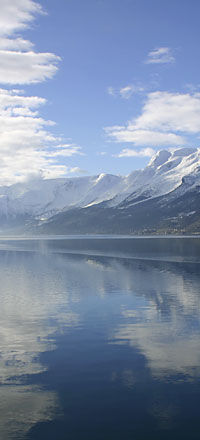 Hardanger is just south of
Bergen. Here is sørfjorden
north of Odda, with sleeping
fruit orchards below the
Folgefonna glacier
Fjords and mountains in Norway
Fjord Norway
on the west coast of Norway is world-famous, and rightly so. There are thousands of fjords, all with different characteristics, but the contrast of
calm sea
and
dramatic mountains
- often with
towering cliffs
- is a trademark.
Fjord Norway starts in Stavanger and stretches north past Bergen to Aalesund and beyond.
Hardanger, Sognefjord, Lysefjord and Geiranger are the most famous of the fjords.
Hardanger
Hardangerfjord
is the big fjord between Haugesund and Bergen, which goes north east into the mountains, with another arm - called
Sørfjorden
- which then cuts south to Odda. To the west of Sørfjorden is the Folgefonna glacier and to the west is the vast wild plateau of
Hardangervidda
- but the slopes of the fjord are lined with fruit orchards, and there is a
music festival
here in the spring.
Sognefjord
This longest of fjords is famous for many reasons, including the
Flåm
railway and the Borgund stave church
Geirangerfjord
Geiranger is a small but famous branch of Storfjorden near Ålesund. You can take a car ferry from Hellesylt to Geiranger from May to September (parts of the roads are closed during the winter, and can be interesting on 1st May!). You can also travel on the
Hurtigruten
boats through Geiranger in the summer.
Ryfylke
The Ryfylke area is a unique mix of islands, fjords and mountains to the north of Stavanger. Follow our route
island-hopping to Sand and Sauda, then over the mountains to Røldal
. From there, go west to Haugesund, north to Odda and Hardanger, or east to Setesdal (and
Hovden
) or Telemark.
Lysefjord
Lysefjorden
is very close to Stavanger, with
daily sightseeing boat trips from Stavanger
, and car ferries to Lysebotn at the inner end of the fjord during the summer. There is a popular
touring day trip with car
that takes this ferry from Stavanger, drives
up and over to Sirdal
and back to Stavanger.
Along the fjord you can look up at
Pulpit Rock
(called
Preikestolen or Prekestolen
in Norwegian) 604 metres above the water. Further along, you can just see the boulder of
Kjeragbolten
1000 metres up. Base jumpers parachute from Kjerag during the summer.