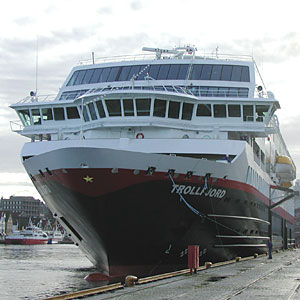 Trollfjord is one of the newer Hurtigruten ships,
built in 2002. It can carry 674 passengers
Hurtigruten - Norwegian Coastal Voyage
Hurtigruten began over a century ago as a mail service and freight and passenger lifeline linking the coastal communities of west and north Norway - and it still provides that service today, with a vessel going each way every day of the year at all
34 ports
along the way. In the last 20 years this has also become a very popular tourist cruise.
Hurtigruten
(or Hurtigruta) is translated as Express Route, but usually called Norwegian Coastal Voyage, or Norwegian Coastal Express in English.
Note that if a port is visited during the day in one direction, it will likely be a shorter stop during the night in the other direction.
Timetable
There are two timetables - one for the summer from mid-April to mid-September, and one for the winter. The major difference is that in the winter, the boat leaves Bergen later and does not go into Geirangerfjord or stop a second time in Aalesund. Beyond Trondheim, both timetables are the same. Below you can see a few of the scheduled departures.
Depart
Bergen
20.00 (22.30 winter) -
northbound
visit
Geiranger
13.30 (+1 day - summer only, northbound only)
Depart
Trondheim
12.00 (+ 2 days)
Depart
Bødø
15.00 (+ 3 days)
Depart
Tromsø
18.30 (+ 4 days) -
eastbound
Depart
Hammerfest
06.45 (+ 5 days)
Depart
Kirkenes
12.45 (+ 6 days) -
westbound
Depart
Hammerfest
12.45 (+ 7 days)
Depart
Tromsø
01.30 (+ 8 days) -
southbound
Depart
Bødø
04.00 (+ 9 days)
Depart
Trondheim
10.00 (+ 10 days)
Arrive
Bergen
14.30 (+ 11 days)
Disclaimer
: we provide these timings as a guide only - schedules can change
Highlights
How can you pick out a few highlights? This is a truly unique journey and you have to experience it to have any real idea of what it is like. I have been on the bridge of ships navigating through these narrow channels with cliffs and rocks all around - at night, with many lighthouses flashing their coded signal to guide the way. Some sections are in open sea, but much of the route weaves through and around the islands.
I have also been in some of these small towns when the boat arrives - the buzz of people arriving, leaving, greeting, and collecting or delivering vital packages, before it rushes on its way.
Bergen to Trondheim
- Geirangerfjord, plus Florø, Måløy, Ålesund and Kristiansund
Bødø to Tromsø
- Lofoten with Raftsunden, Trollfjorden and other long narrow channels between the islands - timings are better southbound.
Tromsø to Kirkenes
- another world of small weather-beaten fishing communities - all snow and ice encrusted in the dark winter, midnight sun in the summer. Kirkenes is close to the Russian and Finnish borders.
Hurtigruten website - global
www.hurtigruten.com
Greenland and Antartica
Two of the vessels take cruises to Antartica in the northern winter, and a new vessel called
Fram
(a proud old name) takes cruises all year.
Extending Hurtigruten
We would like to see the hurtigruta extend southwards (with a 12th ship in the circuit) and include
Hardanger
,
Lysefjord
and
Stavanger
/
Sandnes
. This would allow many of Bergen's visitors to take a one-day-one-night round trip and experience the ships for themselves.