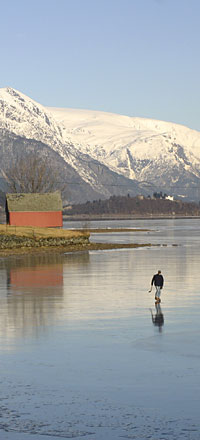 Lone ice-skater near Odda in
Hardanger. Folgefonna glacier
beyond - and hockey stick in
case the ice breaks!
Sightseeing trips and attractions in Norway
If you want to experience the best of Norway, but want to relax and not have to go on long hikes then leave your skis, climbing equipment and parachute at home and take a look - we have a lot to interest you!
There are many
harbours
,
old wooden towns
, museums, shops,
beaches
,
fjords
, islands, boat trips, lakes, lighthouses,
markets
, woodland and gardens to discover.
Activity guide
We have
over 130 trips out published
in our main activity guide so far and you can browse just for sightseeing trips, or search for what interests you.
If you do not find what you are looking for,
let us know
- we have more than 100 more activities not yet published.
Touring trips
From day trips to weekends, full weeks or more, we are building up a network of touring trips, suggesting routes you might not otherwise find, to get a real flavour of what Norway is like - and with good hotels to stay at along the way.
Lysefjord and Sirdal loop
(1 day or short break)
Stavanger - Ryfylke island-hopping - Sauda
(2 - 7 days)
Stavanger - Ryfylke - Setesdal - Sirdal islands fjords and mountains loop
(3 - 10 days)