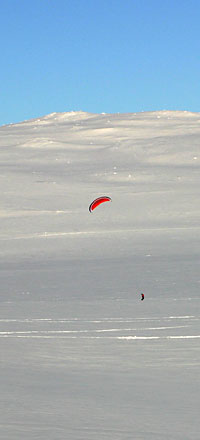 Many alpine ski resorts - plus
cross-country skiing and
kite-skiing, like here near
Haugastol
Skiing Norway - ski resorts near Bergen, Oslo and Stavanger Norway
Norway has a right to call itself the home of skiing, with cross-country (or nordic) skiing, and telemark (alpine, but with only the toe of the boot fixed) skiing being invented here. It is very popular in all its forms - and growing fast.
Ski guide
You can see our
full ski guide here
- complete with resort descriptions and information on getting there, including
ski-bus, ski-train or ski-boat
options.
Find flights from your favourite airport and then look up the best resorts to get to from your arrival airport. With
direct flights from many airports in England and the UK, Denmark, Germany, Holland, France, Sweden
and other countries, you have plenty of choice - to Stavanger Bergen and Oslo, but also Haugesund, Kristiansand, Torp and Fagernes.
Main centres
Sirdal
,
Sauda
and
Røldal
are the big centres close to Stavanger, and all are growing fast.
Hovden
is the big - and growing - centre in Setesdal, and is easily reached from Stavanger, Haugesund, Kristiansand and Oslo.
Voss
and
Geilo
are the 2 main resorts from Bergen, and both can be reached by train, with ski lifts close to the stations on the Bergen - Oslo railway line.
Hemsedal
is about 30 km north of the same railway line further east, and is the biggest resort in south west Norway.
Snow conditions and global warming
Everyone is worried (and should be) about global warming, so how does Norway's skiing fare?
It is a very mixed story, with at one extreme one of the small lower resorts not opening at all one recent season - but in the same season, other resorts - for example Røldal, Hovden, Trysil and Hemsedal had 5 or 6 months of good snow conditions. The bigger (and higher) resorts should have good snow, and
all major skisenters have invested heavily in snow-making equipment in the last few years
, to take advantage of the usual clear cold weather in November.